Driving the sustainable transition requires active engagement from across different sectors. The uptake of micro mobility services brings a unique opportunity to tackle current transport challenges in urban areas.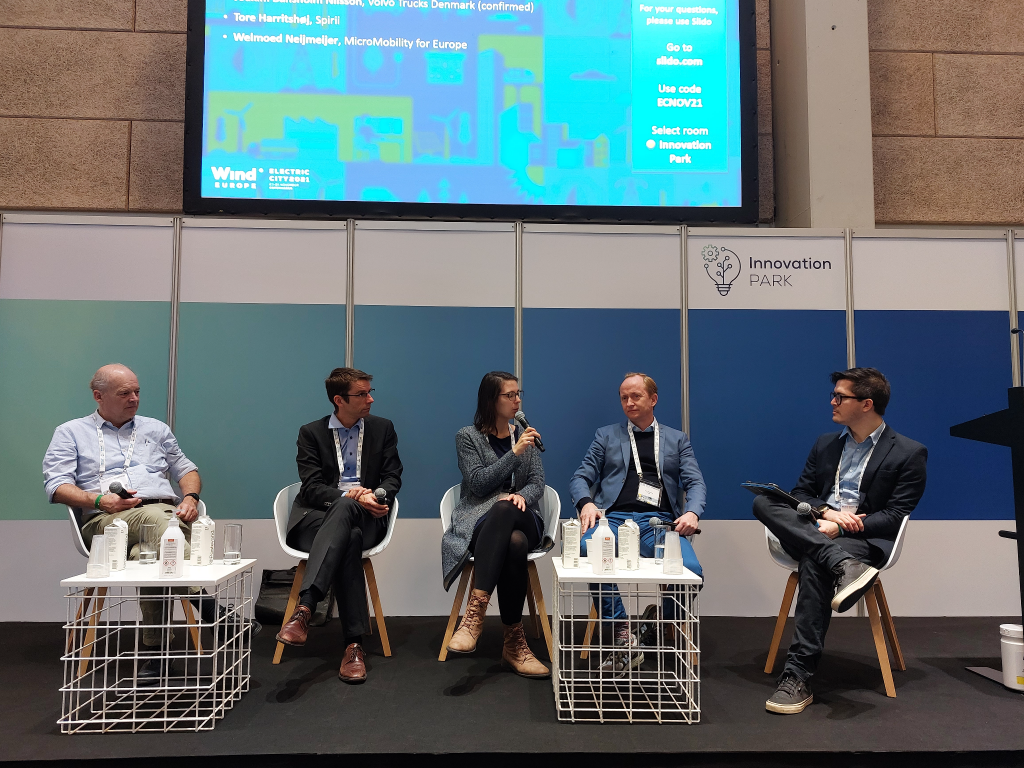 Brussels, 3 December 2021
Micro Mobility for Europe was pleased to take part in WindEurope's annual Electric City 2021 conference that took place in Copenhagen, Denmark. The coalition's co-Chair Welmoed Neijmeijer (Bolt) joined Henrik Striesdal (Stiesdal Offshore Technologies), Joakim Bansholm Nilssen (Volvo Trucks) and Tore Harritshøj (Spiiri) during a panel on Transport and Mobility, where speakers discussed the main challenges that lie ahead of the sectors at the dusk of the sustainable transition.
The coalition highlighted that clear rules on micro-mobility from cities are needed and collaboration between operators and local governments when it comes to micro mobility solutions will be necessary to achieve the sustainability goals for urban transport. Cities should stimulate integration of various transport modes to provide consumers with the  most suitable transport options. The panelists agreed that engagement from public administration is an important catalyst of change, also for heavy transport where significant investment in infrastructure is imminent.
The co-Chair highlighted that shared micro-mobility solutions have the potential to generate a modal shift from car trips in urban areas to more sustainable modes, and complement public transportation, which will ultimately have a clear positive impact on congestion, livability, and GHG emissions. The use of shared micro-mobility solutions such as e-scooters, bikes, e-bikes and mopeds, will reduce emissions compared to the use of cars as their energy use and GHG emissions profiles are comparable in magnitude to that of public transport.
The speakers agreed however that a shift to sustainable transport will take more than just ensuring the successful deployment of micro-mobility solutions in urban areas. Both decarbonisation and digitalisation of different modes of transport call for the development of digital interfaces, including multi-modal digital mobility frameworks that would allow passengers to plan their trips combining multiple means of transport across the EU. To this end, Micro Mobility for Europe highlighted their support for the creation of the Common European Mobility Data Space and multiple initiatives stemming from the European strategies for data and mobility, which strive for integration of transport modes thus contributing to increased accessibility of sustainable transportation.