On 10 January 2023, the European Parliament's Urban Intergroup and Micro-Mobility for Europe hosted a debate on the role of micro-mobility in the New Urban Mobility Framework (NUMF). Speakers included MEP Jan Olbrycht (EPP, PL) and Vice-Presidents MEP Fabienne Keller (RE, FR) and MEP Andreas Schieder (S&D, AT) of the Urban Intergroup, Daniel Mes, Member of the Cabinet EVP Timmermans, Jens Müller, Policy and Research Lead, Clean Cities Campaign and Welmoed Neijmeijer from Micro-Mobility for Europe.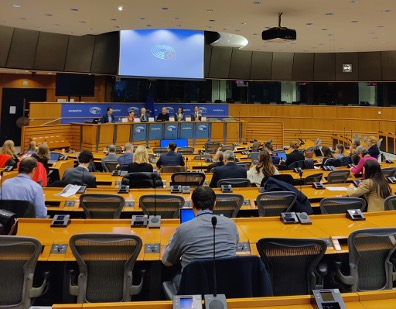 Panelists discussed the opportunities created by micro-mobility, as well as the challenges that the sector is confronted with. The need for more and better infrastructure for micro-mobility users, better integration with public transport, better education for road safety, the existing patchwork of applicable traffic rules, and the lack of a harmonised technical standard were raised as obstacles.
However, already today the availability of micro-mobility reduces car dependency and complements public transport and is an innovation that helps cities to make urban mobility greener and smarter. Speaker Daniel Mes (Cabinet EVP Timmermans) stated that "banning micro-mobility in cities is not a desirable outcome from the point of view of a member of cabinet of EVP Timmermans".
During the event, MMfE also released 2021 insights into industry-aggregated safety injury data of shared e-scooter riders. Fatality rates are twice as low as private e-scooters and the overall risk of incidents requiring medical treatment is 60% lower than comparable data from 2019.
While speakers acknowledged the important role that micro-mobility already plays in diversifying the urban mobility landscape by reducing congestion and emissions, they called for action on:
Improving infrastructure: more space and safe infrastructure encourages the safe use of micro-mobility and cycling
Working towards harmonised technical standards: to ensure an innovation-friendly framework, EU technical requirements for personal light electric vehicles is needed for e-scooters and e-bikes
Encourage multimodality: micro-mobility strengthens public transport via first and last-mile trips and by making the combination more attractive, car dependency can be reduced
Speaker's statements
MEP Andreas Schieder (S&D, AT) stated that "we can see an enormous amount of increase in the usage of e-scooters in the last year which is coming together with additional questions of infrastructure, safety and rules for parking".
MEP Jan Olbrycht (EPP, PL) identified that there is a lack of definition when it comes to micro-mobility, which should be addressed. Furthermore, he highlighted that "we cannot solve problems of transport without urban policy".
MEP Fabienne Keller (RE, FR) acknowledged that "sharing concepts enable citizens to try new services. We have to be careful with the rules imposed to not discourage their use" and noted that considering the weight of cars, "walking, cycling, e-scooter and e-bikes are a much preferred option".
MEP Marcos Ros Sempere (S&D, ES) called for European funding to improve multimodal, sustainable mobility focusing on public transportation and shared mobility. Moreover, he asked for only funding for mobility projects that improve the urban mobility indicators.
Daniel Mes (Cabinet EVP Timmermans) stated that "banning micro-mobility in cities is not a desirable outcome from the point of view of a member of cabinet of EVP Timmermans."
Jens Müller, Clean Cities Campaign, referring to car dependency stated that "We urgently need to use all available options to reduce the use of polluting cars in our cities. There are plenty of workable options available to mayors to make everyone's life better and tackle the climate crisis by letting citizens jump on shared bikes or e-scooters, while putting in place measures that guarantee road safety and a fair sharing of scarce public space."
Welmoed Neijmeijer, Micro-Mobility for Europe, emphasised that "to maximise the societal benefits of micro-mobility solutions, infrastructure is needed and authorities must move away from car-centric spatial planning".